All-Star Rosters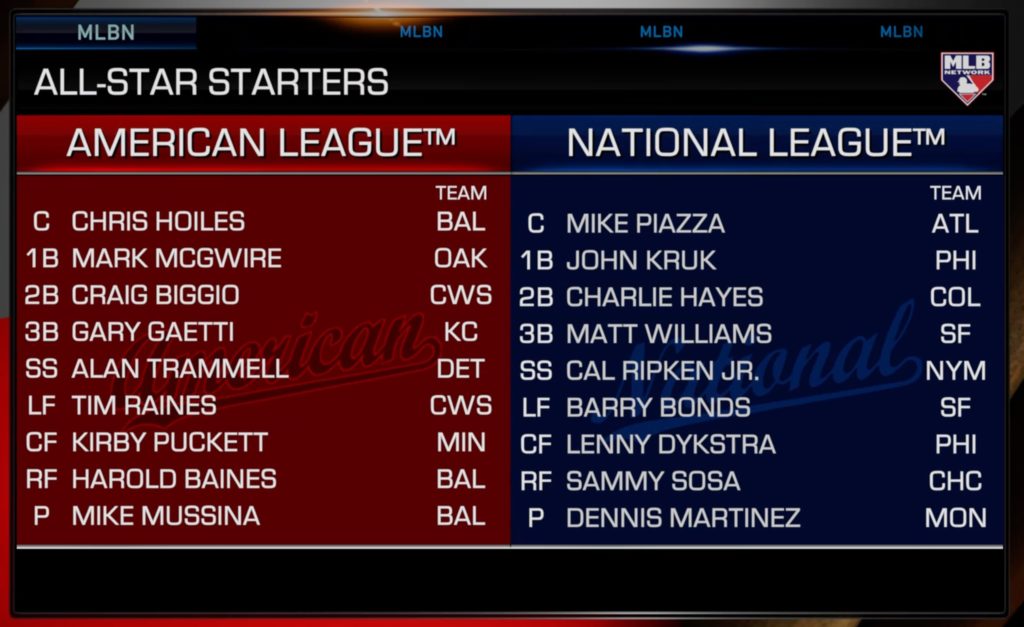 The All-Star Game broadcasts tomorrow, Feb 13, at 6:00pm PST.
Hardship Draft
The Hardship Draft winners have been chosen, and will make their picks in this order:
New York Mets
New York Yankees
Seattle Mariners
A lot of players are in… play this year, so we could see some big changes in the second half. Look for the picks to be announced this evening during the Home Run Derby.
Home Run Derby
Here are the seeds for tonight's Home Run Derby:
Mark McGwire
Frank Thomas
Rafael Palmiero
Fred McGriff
Barry Bonds
Andre Dawson
Matt Williams
Mike Piazza
Join us starting at 6pm PST for some Dingers tonight at https://twitch.tv/extrafuture
Standings
AL East
CPU – Orioles – 62-35, 1st
Seamus – Blue Jays – 46-51, 16GB, 2nd

OVR: 4th, CON: 13th, PWR: 9th, PITCH: 7th, DEF: 10th, SPD: 13th

Liam – Yankees – 42-53, 19GB, 4th

OVR: 20th, CON: 6th, PWR: 19th, PITCH: 20th, DEF: 17th, SPD: 30th
AL Central
Travis – White Sox – 57-39, 1st

OVR: 1st, CON: 4th, PWR: 6th, PITCH: 8th, DEF: 4th, SPD: 1st

Tony – Tigers – 56-41, 1.5GB, 2nd

OVR: 22nd, CON: 8th, PWR: 18th, PITCH: 26th, DEF: 16th, SPD: 25th

Dan – Royals – 55-44, 2.5GB, 3rd

OVR: 2nd, CON: 2nd, PWR: 5th, PITCH: 2nd, DEF: 22th, SPD: 8th
AL West
Austin – Rangers – 50-47, 3.0GB, 3rd

OVR: 18th, CON: 19th, PWR: 11th, PITCH: 16th, DEF: 19th, SPD: 26th

Sandra – Mariners – 43-55, 10.5GB, 4th

OVR: 11th, CON: 18th, PWR: 2nd, PITCH: 24rd, DEF: 2nd, SPD: 24th
NL East
Derek L – Phillies – 64-32, 1st

OVR: 6th, CON: 1st, PWR: 10th, PITCH: 6th, DEF: 24th, SPD: 4th

Charles – Expos – 60-37, 4.5GB, 2nd

OVR: 7th, CON: 11th, PWR: 23rd, PITCH: 4th, DEF: 8th, SPD: 9th

Derek – Braves – 57-40, 7.5, 3rd

OVR: 3rd, CON: 20th, PWR: 15th, PITCH: 1st, DEF: 9th, SPD: 27th

Phil – Mets – 33-63, 32.5, 4th

OVR: 16th, CON: 21st, PWR: 12th, PITCH: 10th, DEF: 7th, SPD: 12th
NL Central
Cardinals – CPU – 61-36, 1st
Gary – Cubs – 49-47, 10.5GB, 3rd

OVR: 14th, CON: 15th, PWR: 16th, PITCH: 17th, DEF: 5th, SPD: 15th

George – Reds – 43-53, 17.5gb, 5th

OVR: 12th, CON: 16th, PWR: 24th, PITCH: 13th, DEF: 3th, SPD: 3rd
NL West
Henry – Giants – 50-44, 1st

OVR: 5th, CON: 14th, PWR: 13th, PITCH: 5th, DEF: 1st, SPD: 7th