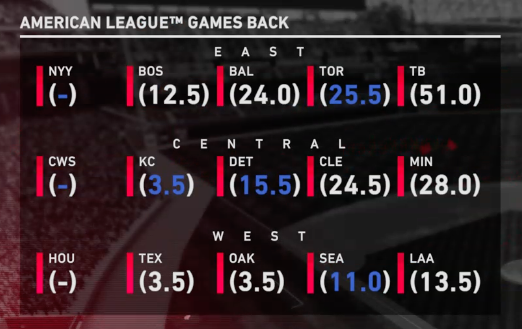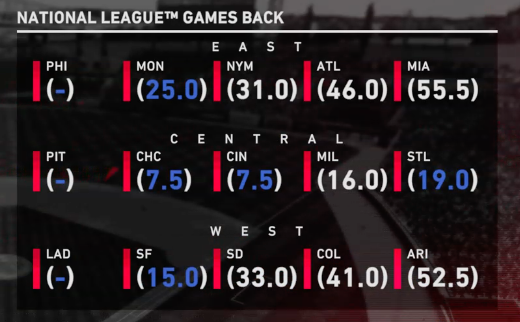 Hokey smokes, Bullwinkle, we're down to the last 2 weeks of the regular season and the NL and AL central are still up for grabs. The Phillies, Dodgers, Yankees, White Sox and Royals have all clinched postseason appearances. Unfortunately the Mariners, Giants, and Blue Jays are out of contention.
In the AL Central, the White Sox and the Royals are separated by just 3.5 games while facing each other 3 times in their final 9 games.
In the NL Central the Pirates have a strong lead but Cubs and Reds are both just barely still in the hunt for the division, while leading the Wild Card. The Cubs face the Pirates 3 times before it's all over, and the Reds have 4 games against the Bucs.
It's down to the wire, folks! With Divergent League you pay for the whole seat, but you only need the edge. Stay with us as we end the regular season this weekend and move into the playoffs. You can catch all of the action on extrafuture.com/tv
— 1977 Sept 17th Standings
Yankees – Liam – 95-57, 1st AL East
Blue Jays – Phil – 70-83, 4th AL East, 25.5gb
Phillies – Ryan – 110-42, 1st NL East
Expos – Chuck – 85-67, 2nd NL East, 25gb
White Sox – Travis – 96-57, 1st AL Central
Royals – Derek – 92-60, 2nd AL Central 3.5gb
Tigers – Tony – 80-72, 3rd AL Central, 15.5gb
Pirates – Austin – 95-57, 1st NL Central
Cubs – George – 88-65, 2nd NL Central, 7.5gb
Reds – Ev – 87-64, 3rd NL Central, 7.5gb
Cardinals – Derek L – 76-76, last NL Central, 19gb
Dodgers – Gary – 92-61, 1st NL West
Giants – Hank – 77-76, 2nd NL West, 15gb
Mariners – Sandy – 71-81, 4th AL West, 11gb
— AL Wild Card Picture
Royals, Red Sox lead
Tigers – 2.5gb
— NL Wild Card Picture
Cubs, Reds lead
Expos – 2.5gb